LinkedIn is one of the most efficient job search channels. For many years, the professional social network has been helping recruiters and job seekers alike. However, if you want to actually benefit from its tools and functionalities and end up being invited for an interview, you should get it all right.
In our previous blog post, we took you through the steps you need to take to fill in all the bits and pieces of your personal details. Now it's time to get your hands on the real stuff and describe your professional skills and experience.
Job search section
LinkedIn users can show everyone that they are looking for a job – right on their profile page. This is an extremely useful feature for recruiters all over the world as it saves them heaps of time and efforts and ultimately results in faster vacancy fill-up. It is also a great tool for candidates and helps them land a job much more quickly.
Don't skip this section if you are actively and openly looking for a new place to work. Candidates who are on the job market are much easier to negotiate with than people who should be persuaded to change their workplace. Therefore, recruiters are likely to send invitations predominantly to people who have ticked this box.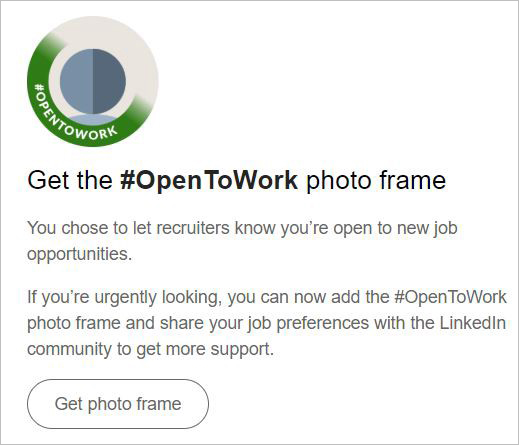 Click on the grey box and fill in the main fields that you see. When filling in the Job Titles sections, you should take into account the general principles of Job Title names and your job search strategy. You may and should fill in several positions if you have several fields of expertise or there are several names for your job title in the market. You can also select several locations. The Job Type section depends on the professional level of the candidate. For example, a Senior Project Manager would NEVER tick the Internship option.
If you are looking for work openly, you can set your profile so that everyone can see that, not just recruiters. This is helpful because sometimes an internal HR manager or a CEO may also look for job candidates without the help of recruiters.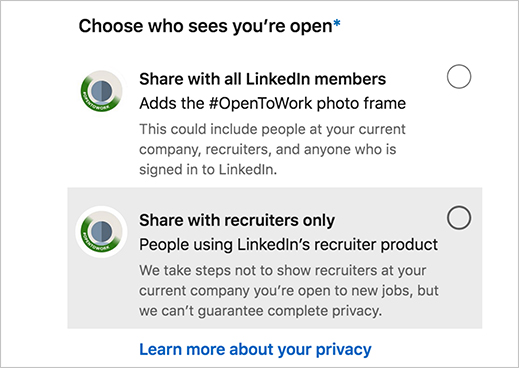 About
There is a widespread opinion that recruiters don't read candidate profiles at all. Anyone can be unprofessional in doing their work, be it a developer, a recruiter, a marketing expert, a doctor, or a teacher. Yes, there are unethical and unprofessional recruiters, but most of them pay very careful attention and thoroughly read the About section of a candidate's profile before sending them an offer. Most recruiters go manually through several hundred profiles or resumes every day before they pick out a few and send them a message. This does not require any super hi-tech automated systems or artificial intelligence. Attention to detail on the part of the recruiters and a skillfully made profile on the part of the candidate can do the job pretty well.
Recruiters seek to find out what a candidate wants and what they find interesting. Therefore, the About section is one of the most important sections in your LinkedIn profile. Unfortunately, most candidates fail to do it right and write texts that raise questions rather than give answers.
For example, a candidate is looking for a digital marketing job in an IT company with international operations. However, in their About section, they have elaborated on their previous experience in an advertising agency that was developing FMCG campaigns in Bulgaria. A recruiter who comes by this profile could never guess the candidate is looking to change industries. Even if you have mentioned that in one of the other sections, there is no way they can find this out, unless they dig deeper. The About section allows you to clearly write down the type of job you are looking for.
Remember, everything you write in your About info will result in offers for a certain level and/or field.
If a candidate is actively and openly looking for a job, they should come up with their own text, highlighting their desired field of work, and professional advantages to other candidates. You can create your own description, but below you can find a good sample. Make sure to divide your text into clear paragraphs – this will help readers analyze and remember it better. Pay attention to formatting, spelling, and grammar:
Paragraph 1: The job title you are looking for or your current job title. Industry or type of company. For example – product company or outsourcing.
Paragraph 2: List the functions that you want to perform or the functions that you currently perform. Say what you like doing and what you are best at. You may also include information about the markets or products that you enjoy working with. Keep the list short – no more than 10 points.
Paragraph 3: List the technologies or tools you can use. This is particularly important for jobs such as digital marketing experts, IT developers, testers, etc. Don't forget to also mention the Office packages that you use, and your foreign language skills.
Paragraph 4: Add your contacts so recruiters and/or managers can get in touch. Your contact data is not visible for your 2nd level connections, therefore it is worth adding it here. Add your current or desired location (city and country) or indicate that you are willing to relocate. If you want to only work remotely, point this out. Leave your email or messenger contact details.
Featured
Here, you can add links to posts that you have made earlier, useful materials or your resume. This is a very convenient section and is really helpful for recruiters, when they try to understand a candidate's hopes and expectations in terms of their future work. It also helps them get an extra insight into their professional qualities.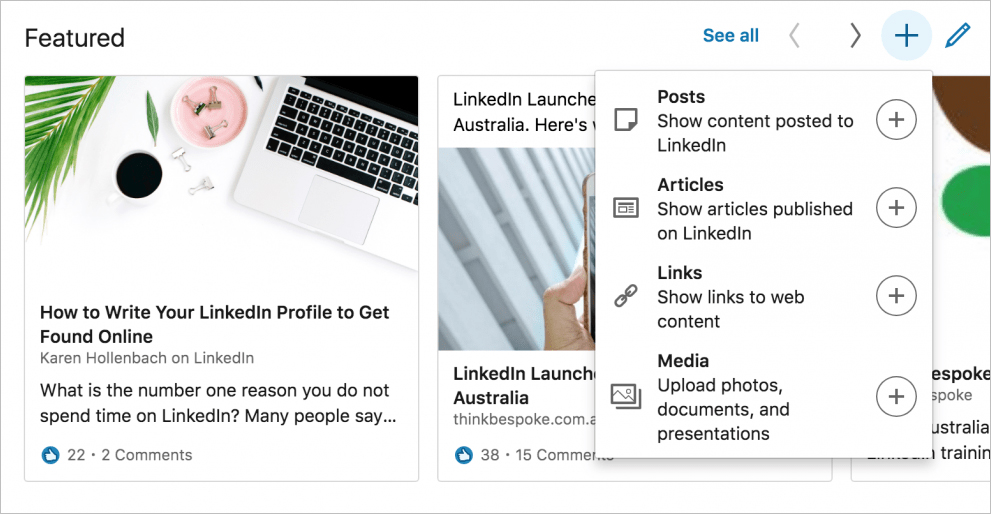 Before you start looking for a new job, check if:
There are some files or links left from the website of your previous employer;
Your resume has been updated;
There is any information that may discredit your professional qualities (for example, fake or dubious information).
Your Dashboard
This section should be checked out at least once a month. You don't need to buy a Premium Account just to see who viewed your profile.
The most important part is the last, third box called Search Appearances. If you click on it, you will be taken to a page – go to the bottom and look at the field called "Keywords your searchers used"- this is a very useful detail worth knowing.
There is also information about the companies or people who searched your profile but this is not as important as the words these people used in the search field to come by your profile.
If you are a designer and people find you when they search for "lawyer" or "accountant", there is obviously something wrong with your profile. This means that you have used words that are not relevant for your job.
If you follow the keywords section, you can update the information in your profile so it gets into the right hands and brings you relevant job offers. This is how LinkedIn algorithms work and you should definitely take advantage of them.
Activity
When a recruiter or a manager reviews a candidate's profile, they may see some comments or likes underneath some of their own posts. This is quite pleasing and may actually affect the decision making process in the company where you would like to work.
Before you start looking for a job or writing comments, go to your profile and make sure you have not made any negative comments or posts that may be rude or impolite. Recruiters are currently very much interested in the topic of "toxic employees". Based on a candidate's posts and comments, they can judge whether they are "toxic" or not.
To see all your published posts, click on the See All Activity field. This will take you to the page where you can view your "All Activity", "Articles, "Posts", and "Documents".
Experience
Most candidates wonder if they should list all their previous positions in the Experience field. Well, yes and no. The Experience section gives recruiters and managers information about your qualifications and skills. Of course, when you fill these details in, make sure their format is right – not too long, not too short, and encouraging recruiters and managers to invite you for an interview. You should regularly review and update this section to include words and phrases that best describe your professionalism.
The information you include here should be largely based on your job search strategy, desired field of work, and individual circumstances. You may copy it from your resume, or work on it using the advice of mentors, experts in your industry, HR consultants, or someone that you trust.
Find out the 6 ridiculous mistakes candidates make when uploading their CVs on job platforms!
Don't forget to prioritize the facts that you include here – put the most important and most up-to-date details on top.
Another thing – it is not worth listing jobs that you worked a very long time ago and are no longer relevant. If you are a marketing manager and once worked as a cashier while you were a student, you can skip this info.
Education
Make sure all info here is up-to-date, too. There is no need to fill in information about your grades or university classes that you took. If you hold a bachelor's and a master's degree in the same specialty, leave just the higher one. If they are in different fields, leave both. The same goes for licenses and certifications.
Skills and Endorsements
This is an important section and candidates should make sure it is up to date. There is an automatically generated list of skills – you can use those. When you click on the Add a New Skill button, start typing a new skill in the search box and the system will automatically offer similar suggestions.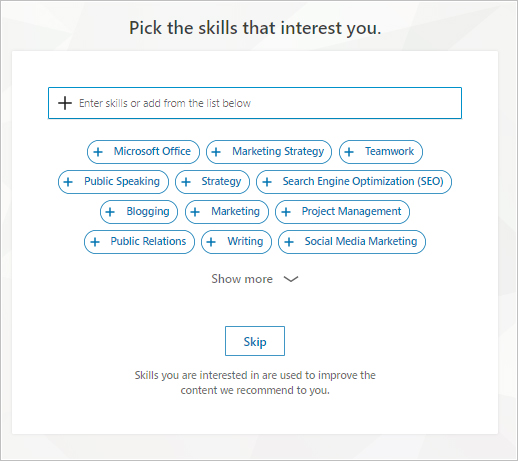 The list you will get is always relevant and is based on the skills searched by employers. If you use it, you are going to make less mistakes and this section will work efficiently.
Another important thing you should do is set your three top skills that will be showing in your profile. You can always update them and rearrange them.
If some of your skills have more endorsements but are not key skills for your current or desired job, take them down and add different ones. The system automatically sets the three main skills based on the number of endorsements but you can change that.
Besides tools and technologies, don't forget to also add your foreign language skills, interpersonal skills, and anything else you may find useful. You can also add industries or functions. There is a limit of 50 skills and you'd better use it to the fullest.
Some LinkedIn users are afraid to remove skills that are no longer relevant because they have multiple endorsements. It's like not wanting to remove a photo with your ex from your FB profile just because of the many likes it has attracted. This is an individual decision but sometimes the past should be left in the past.
Recommendations
This is probably not the most important section of your LinkedIn profile but it is always nice when someone finds the time to write a word or two about your work together. If the person who wrote your recommendation has a high-rated profile, this will have positive impact on your profile, too.
Accomplishments
For recruiters, probably the valuable part of this section is the Languages field.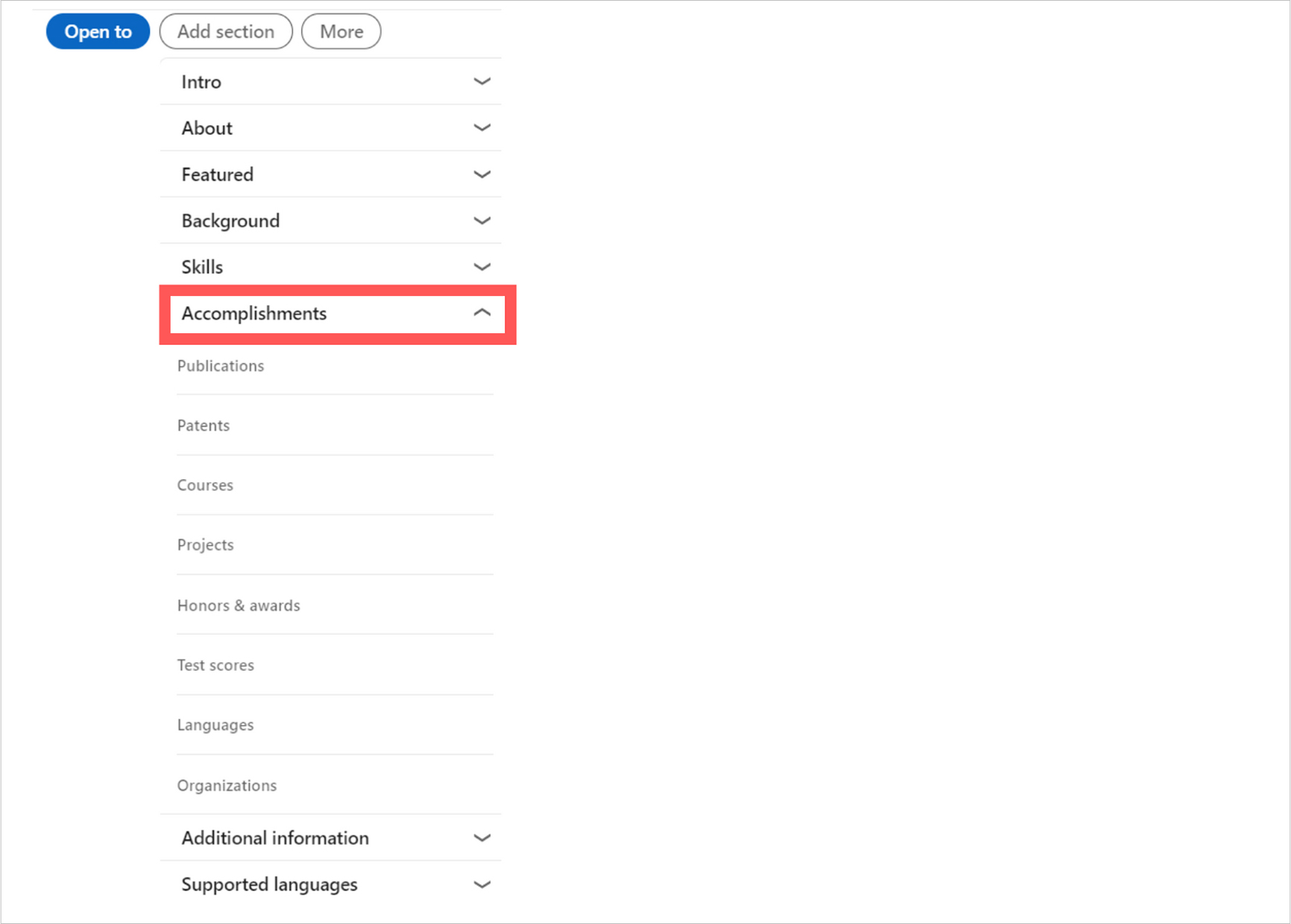 Check this section regularly because sometimes it may not work properly. When setting your level of language proficiency, you can choose between five options:
Elementary proficiency – basic level that corresponds to A1-A2;
Limited working proficiency – corresponds to A2-B1;
Professional working proficiency – intermediate or upper intermediate level where a candidate can freely use the language in their work (B1-B2);
Full working proficiency – upper intermediate or fluent (C1-C2);
Native or bilingual proficiency – native-speaker level.
And last but not least
If you've reached this far and filled in your profile while reading this blog post – congratulations because you've done much of the hard work that will help you get noticed.
Best of luck and best of use with LinkedIn!
And don't forget – if you need advice on the tips and tricks of building a successful career without falling in the common traps, feel free to contact one of our stellar HR wizards!